I got tired of the slowness of DreamHost servers and its consequences, such as sites being down or extremely slow from time to time. So I decided to migrate progressively over the next weeks to WebFaction because:
The costs are the same.
They don't overload their servers.
They have an excellent reputation in the TurboGears community.
So here I offer a comparison on the server load in my DreamHost shared host vs my WebFaction shared host.

Server load itself
DreamHost

2.83 of mean load during the last 15 minutes!
Please note that DreamHost is hiding the actual amount of connected users.
WebFaction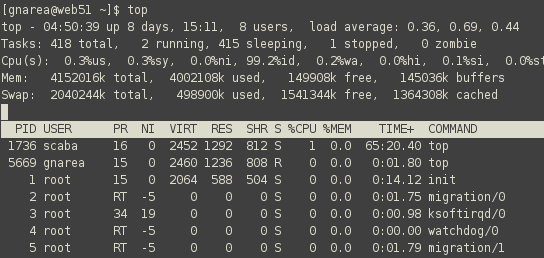 0.44 of mean load during the last 15 minutes! Of course, WebFaction has nothing to hide.
Users per server
The conclusive proof to demostrate that DreamHost overloads their servers, while WebFaction cares about their servers' load, is the amount of users per server:
DreamHost
[trans-am]$ wc -l /etc/passwd
875 /etc/passwd
875 users at the same host!
WebFaction
[gnarea@web51 ~]$ wc -l /etc/passwd
178 /etc/passwd
178 users on a server that is much better than DreamHost's!
Server specs
Before somebody comes up and say "That's not a conclusive proof, DreamHost's hardware may be capable of handling more users than WebFaction's", here you have some specifications for every server — guess what? This WebFaction server is better than my shared host at DreamHost!
DreamHost
[trans-am]$ free -m
total used free shared buffers cached
Mem: 4039 3851 188 0 127 1855
-/+ buffers/cache: 1868 2170
Swap: 6165 544 5621
[trans-am]$ cat /proc/cpuinfo
processor : 0
vendor_id : AuthenticAMD
cpu family : 15
model : 67
model name : Dual-Core AMD Opteron(tm) Processor 1218 HE
stepping : 3
cache size : 1024 KB
fdiv_bug : no
hlt_bug : no
f00f_bug : no
coma_bug : no
fpu : yes
fpu_exception : yes
cpuid level : 1
wp : yes
flags : fpu vme de pse msr pae mce cx8 apic sep mtrr pge mca cmov pat pse36 clflush mmx fxsr sse sse2 ht syscall mmxext lm 3dnowext 3dnow pni
bogomips : 2588.67
#
processor : 1
vendor_id : AuthenticAMD
cpu family : 15
model : 67
model name : Dual-Core AMD Opteron(tm) Processor 1218 HE
stepping : 3
cache size : 1024 KB
fdiv_bug : no
hlt_bug : no
f00f_bug : no
coma_bug : no
fpu : yes
fpu_exception : yes
cpuid level : 1
wp : yes
flags : fpu vme de pse msr pae mce cx8 apic sep mtrr pge mca cmov pat pse36 clflush mmx fxsr sse sse2 ht syscall mmxext lm 3dnowext 3dnow pni
bogomips : 2588.67
WebFaction
[gnarea@web51 ~]$ free -m
total used free shared buffers cached
Mem: 4054 3869 185 0 103 1371
-/+ buffers/cache: 2394 1660
Swap: 1992 487 1505
[gnarea@web51 ~]$ cat /proc/cpuinfo
processor : 0
vendor_id : GenuineIntel
cpu family : 6
model : 15
model name : Intel(R) Xeon(R) CPU X3210 @ 2.13GHz
stepping : 11
cpu MHz : 2133.601
cache size : 4096 KB
physical id : 0
siblings : 4
core id : 0
cpu cores : 4
fdiv_bug : no
hlt_bug : no
f00f_bug : no
coma_bug : no
fpu : yes
fpu_exception : yes
cpuid level : 10
wp : yes
flags : fpu vme de pse tsc msr pae mce cx8 apic sep mtrr pge mca cmov pat pse36 clflush dts acpi mmx fxsr sse sse2 ss ht tm pbe nx lm constant_tsc pni monitor ds_cpl vmx est tm2 cx16 xtpr lahf_lm
bogomips : 4269.19
#
processor : 1
vendor_id : GenuineIntel
cpu family : 6
model : 15
model name : Intel(R) Xeon(R) CPU X3210 @ 2.13GHz
stepping : 11
cpu MHz : 2133.601
cache size : 4096 KB
physical id : 0
siblings : 4
core id : 1
cpu cores : 4
fdiv_bug : no
hlt_bug : no
f00f_bug : no
coma_bug : no
fpu : yes
fpu_exception : yes
cpuid level : 10
wp : yes
flags : fpu vme de pse tsc msr pae mce cx8 apic sep mtrr pge mca cmov pat pse36 clflush dts acpi mmx fxsr sse sse2 ss ht tm pbe nx lm constant_tsc pni monitor ds_cpl vmx est tm2 cx16 xtpr lahf_lm
bogomips : 4266.80
#
processor : 2
vendor_id : GenuineIntel
cpu family : 6
model : 15
model name : Intel(R) Xeon(R) CPU X3210 @ 2.13GHz
stepping : 11
cpu MHz : 2133.601
cache size : 4096 KB
physical id : 0
siblings : 4
core id : 2
cpu cores : 4
fdiv_bug : no
hlt_bug : no
f00f_bug : no
coma_bug : no
fpu : yes
fpu_exception : yes
cpuid level : 10
wp : yes
flags : fpu vme de pse tsc msr pae mce cx8 apic sep mtrr pge mca cmov pat pse36 clflush dts acpi mmx fxsr sse sse2 ss ht tm pbe nx lm constant_tsc pni monitor ds_cpl vmx est tm2 cx16 xtpr lahf_lm
bogomips : 4266.83
#
processor : 3
vendor_id : GenuineIntel
cpu family : 6
model : 15
model name : Intel(R) Xeon(R) CPU X3210 @ 2.13GHz
stepping : 11
cpu MHz : 2133.601
cache size : 4096 KB
physical id : 0
siblings : 4
core id : 3
cpu cores : 4
fdiv_bug : no
hlt_bug : no
f00f_bug : no
coma_bug : no
fpu : yes
fpu_exception : yes
cpuid level : 10
wp : yes
flags : fpu vme de pse tsc msr pae mce cx8 apic sep mtrr pge mca cmov pat pse36 clflush dts acpi mmx fxsr sse sse2 ss ht tm pbe nx lm constant_tsc pni monitor ds_cpl vmx est tm2 cx16 xtpr lahf_lm
bogomips : 4266.81