My laptop was slow while running my chain and ball KDE 4, and also got some things broken recently (e.g., battery, screen hinges), so I decided to buy a new one last week before it leaves me stranded. And soon enough I realized that I had two options:
Buy it in a place where every single computer ships with Windows, so that I could claim a refund. I didn't care about the money: I just wanted to mess with that kind of vendors and file a lawsuit if I didn't get it on good terms, to encourage people to do the same thing and thus contribute to do away with the Windows Tax.
Purchase it from a Linux pre-installed vendor, to support them. Even if they pre-installed a freedom-trampling system like Windows, it'd be good to show them that Freedomware worths it.
I liked both options alike, so I based my decision on the computer specs and costs, not on the vendor/manufacturer.
I decided to get a Dell XPS M1330, one of the two Ubuntu-powered computers that I remembered Dell sells in Spain. So I visited dell.es/ubuntu and was surprised to find just a couple of netbooks! Change of plans; now I'll have to get it with Windows and claim a refund, I told myself.
So the first step was to get a proof that I was imposed the operating system when I bought the laptop. Sales representatives were available for a chat, so I asked them how could I get a Dell XPS M1330 without Windows. The surprising answer was that it was available with Ubuntu and pointed me to configure2.euro.dell.com/dellstore/! Plans changed one more time; back to the original plan, get it with Linux.
I obviously asked why it wasn't listed on dell.es/ubuntu. The sales rep said that s/he didn't know why and that s/he will forward my query to the relevant department. I bought the laptop with Ubuntu that day and that was it.
Today, out of curiosity, I went to dell.es/ubuntu and found that it hasn't changed! The link the sales rep provided me with the other day still works but the laptop is not listed. And the same happens in dell.fr/ubuntu, dell.co.uk/ubuntu and dell.de/ubuntu, for example.
This can hardly be a mistake. Why the heck does Dell hide some of the few Linux-powered computers they sell now? Maybe due to threats from Microsoft? After all, it's well-know for its monopolistic practices.
PS (April 18th @ 14:00 UTC): The link above to configure2.euro.dell.com/dellstore/ doesn't work at times today, so here's an screenshot if it doesn't work for you: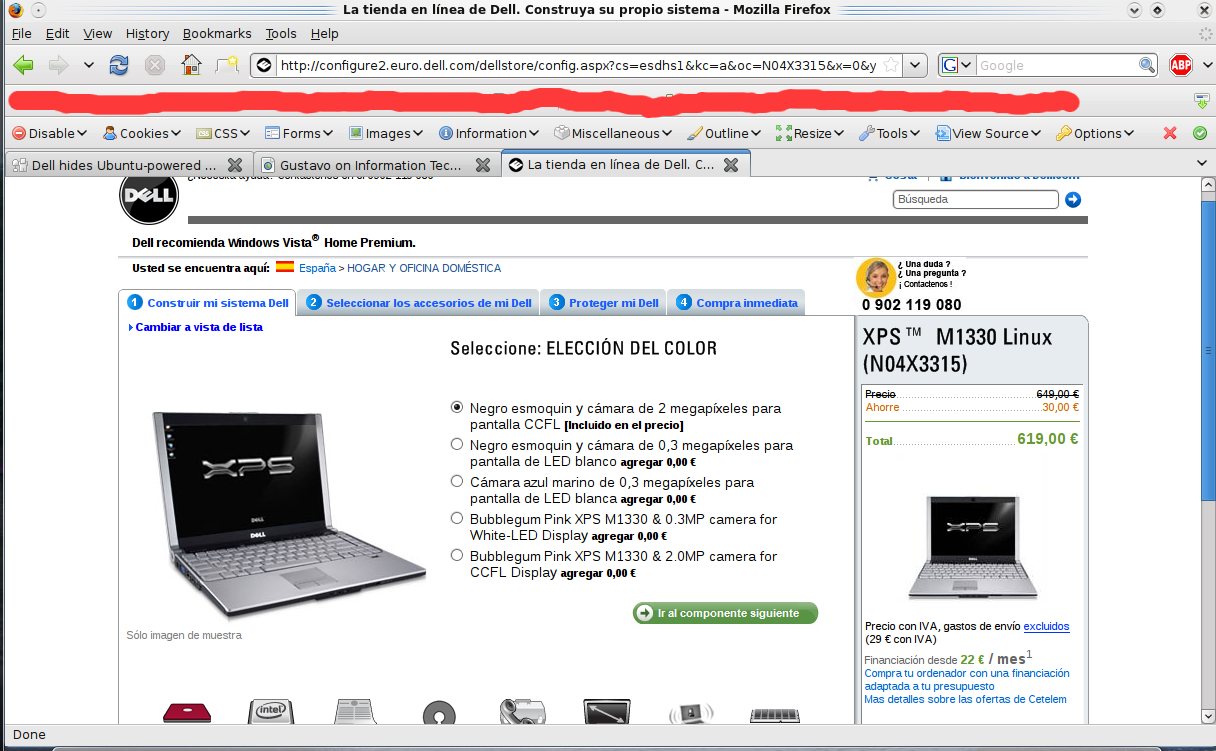 PS (April 19th @ 18:30 UTC): This is an screenshot of the random error I warned about yesterday (which I took just in case), before reaching Digg.com's front-page: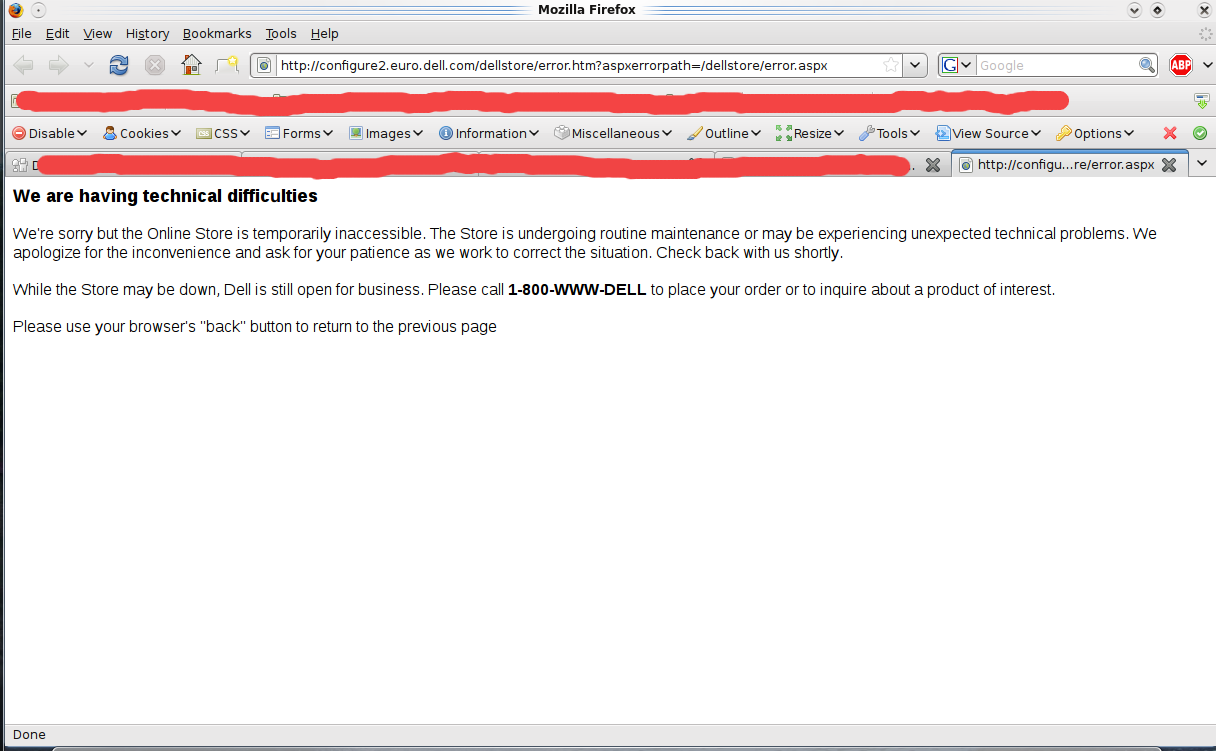 Now, almost 20 hours after reaching Digg's front-page, the link no longer works (not even at times, as yesterday) and a better formatted page is displayed instead: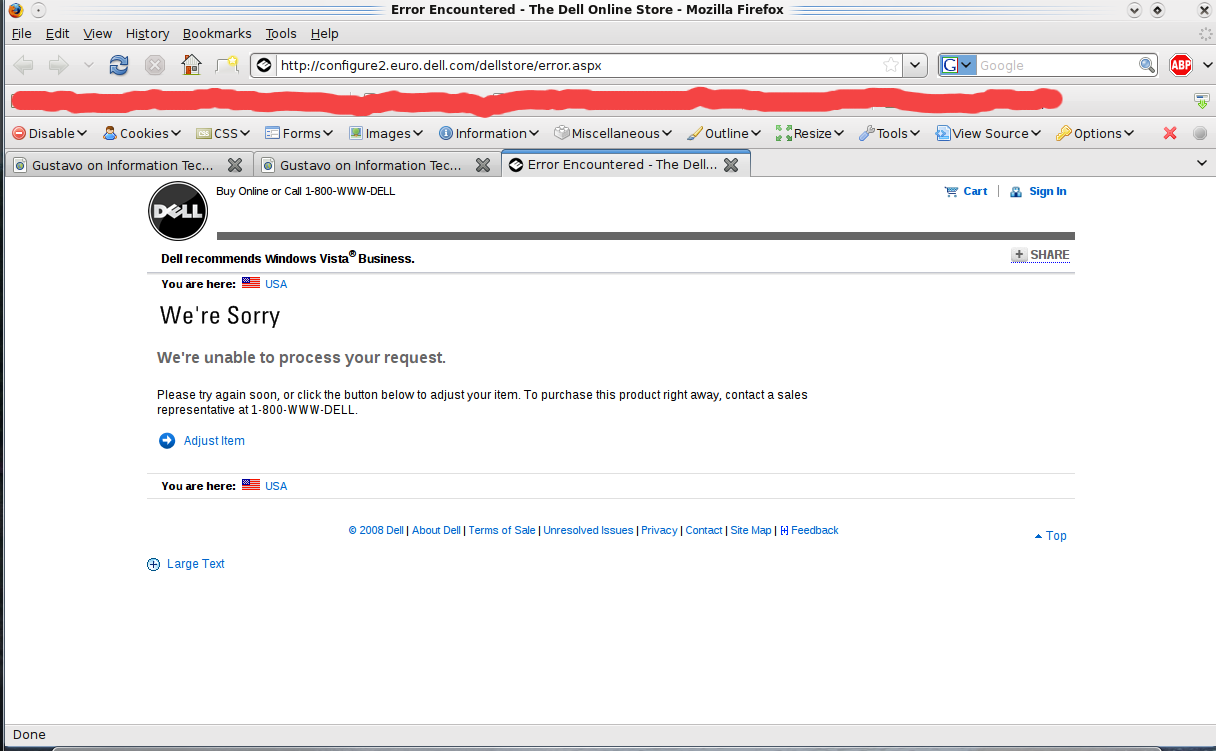 I don't know if the different error pages actually mean something, but my point is that the link is now dead.